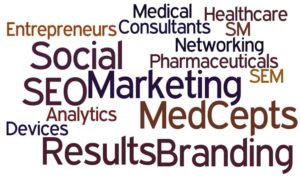 LinkedIn provides tools for those establishing a company showcase page. In addition, they offer widgets to put on your website to lead your website visitors to LinkedIn. Question is: Should you be sending your website visitors away from your business site to LinkedIn or should you be looking for tools to send visitors from LinkedIn to YOU?! The free company showcase page is a great way to to provide a "back-link" to your website but be careful not to put too much time into this as LinkedIn could shut it down at any time. However, you do want to take advantage of the opportunity to obtain association from a high page ranked website.
Let's take a look at our new company page – at less than 60 days young and only 1500+ "followers" at the time of these results. One of the greatest benefits of having a Company Page on LinkedIn is the ability to "back-link" to your own website, sending new customers while improving your own website's SEO. It's usually fun to explore the tools offered by various social networks and social networking does give you an opportunity to be social.
This article is to share with you the analytics provided from a company page on LinkedIn. Analytics for MedCepts Medical Sales Network will provide a little insight to MedCepts – as seen through our presence on LinkedIn. Please note: we are NOT utilizing our own databases to push people to LinkedIn. We do not encourage others to do so either but we do encourage building your presence across a variety of social networks while branding, building and linking to your business – during that process utilizing tools offered by the individual social media sites can have a positive impact on your branding results.
Overview of Page Visitors- less than 90 days of first exposure
55%  are with companies 10,000+ employees
26%  are Entrepreneurs
79% are non-employees
24% Sales
46% Medical Devices
13% Pharmaceuticals
7% Consultants (Listed exclusively as a consultant)