MedCepts Receives Top Recruiter Award as recognition of being in the top Most Influential Sales Recruitment firms across America
2013 Most Influential Sales Recruitment Firms across America – MedCepts recruiting division ranks #2 of 6,000 Recruitment Firms in USA for 2013 for the Most Influential Sales Recruitment Firms.  An extensive expert analysis for 6000 recruitment firms across America were rated on a number of factors with MedCepts being positioned as #2 of all 6000 recruitment firms. We are proud of one of our Top Recruiter awards earned and the numerous subsequent awards year after year.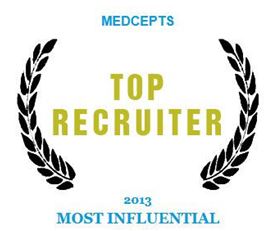 The complex series of factors utilized for the Top Recruiter evaluation include: "MedCepts' efficiency and effectiveness in terms of marketing and public relations, MedCepts' popularity rating based on several factors including the use of social media, the year the recruitment firm was founded and the number of offices."
MedCepts is an industry leader supporting innovative, flexible and out-of-the-box performance based compensation within a relationship-based culture. As a result, we are ultimately driving results across the ever-changing landscape of the healthcare industry. Additionally, revolutionizing interactions between healthcare practitioners, manufacturers and sales representatives.
The MedCepts Medical Sales & Marketing Network is a diversified network of individuals, companies and niche specialty consultants with experience from the "New Idea to Concept" & Distribution.
The mission of our network is to provide support for sourcing and outsourcing processes of the healthcare industry and thus facilitate the search for suitable contractors for specific services.
Appreciation is extended to our entire network for this Top Recruiter recognition!