Small team of Independent Medical Sales representatives developed nationwide, trained and manage assist, Multiple National Contracts Obtained
Critical Challenges: Entering a  very crowded and highly competitive market with strong market leaders present. Limited budget and intense training needed for closing sales in client's service division. Small infrastructure of team members for support (Less than 6 employees) versus market leaders with 100-400 employees. Client Company unsuccessful at obtaining any GPO contracts during company's first 10 years in business.
Objectives: National exposure utilizing independent medical sales representatives. Overcome lengthy training requirements while gaining sales results. Hire, train, and manage a minimum of 50 national independent sales representatives to reach client's desired targets. (Hospitals, Surgery Centers and Out patient Centers) Obtain RFP's (Request for Proposal) from GPO's (Group Purchasing Organizations) for contracting potential for client.
Solution: A sequential, multi-phase approach – Assist Client with Sales Training Material, Sales Material for customers, GPO contracting Process, proactive and perpetual assistance to Recruit, Hire, field train and manage sales team members with sales goals, sales results, territory reviews and sales reports.
Results: Consistently obtained sales for client with new introductions while multiple additional branded competitive companies were vigorously available and already claiming large percentage of market share. The team delivered, beyond expectations, 150% Average Annual Growth in comparison to one of the top competitor's revenue growth ranging from 20-40 percent annually. Competitor (in red on chart below)  was named (BBJ) Best in Business finalist in the category of companies with 101-400 employees.
Solution process resulted in: Assisted Client to obtain Government Contract for marketing to all Veteran Administrative Hospitals, opening opportunities for 150 + facilities nationwide. Obtain RFP's for several additional GPO contracts, assisting client through the process for the experience with one more GPO contract which would allow client's corporate team members to process future GPO contracting opportunities. GPO assistance included attending Product Review board committee meetings to assist in final contract negotiations,  resulting in contract and opening 30,000+ facilities nationwide to client for sales potential opportunities. Contact with GPO sales representatives to introduce client's services with actual field introductions to qualify client's services and potential for GPO member purchases while also utilizing GPO vendor marketing opportunities for client.
Results: Government Contract established resulting in $40,000+ in sales from one VA facility the first 30 days post contract award. (With 150+ more facilities nationwide to introduce client to. Recruited Independent Sales representatives with sales coverage focusing primarily on VA facilities upon initial launch. **Company Sold (Merger and Acquisition)
Company that acquired this business reviewed all sales numbers over the life cycle of the business. They called MedCepts about 2 years after they took over to tell us the TOP SALES over the years was when MedCepts was involved and they requested our services again. Unfortunately, at that time MedCepts declined the offer but certainly appreciated the recognition of sales results acquired. 
Multiple National Contracts obtained for client.
Obtaining contracts doesn't always mean sales results.
Results of just one of the Contracts Obtained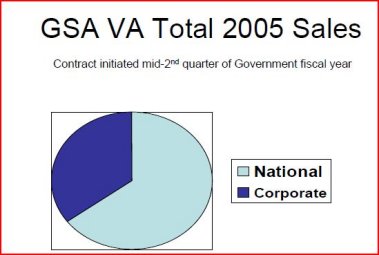 In a short period of time, the Sales of Independent Reps nearly triple the company's Corporate (house) Sales with 10 years established market presence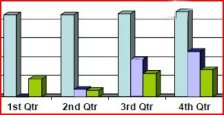 Competitors' Sales vs Client Sales (Client – Lilac) Largest market share holder, blue, next largest market share holder, green.
Competitors' Sales vs Client Sales (Client – Lilac) Largest market share holder, blue, next largest market share holder, green.
Note: Competitor, the major market share holder, restructured their own team from direct salary employees to independent reps as a result of the competition they felt from national independent reps placed!