Medical Device, Pharmaceutical, Biotechnology, and Life Sciences related product development is one of the most competitive and unforgiving industries across the globe. As a result, Medical Device, Pharmaceutical, Life Sciences, and Biotechnology related companies are continuously striving to cut costs while also boosting efficiency when it comes to developing, launching and distributing new products.
The medical device and pharmaceutical sales market are experiencing explosive growth. The global market for medical device sector is valued at $184 billion, according to the European Medical Devices Association, Eucomed. Several of the Market Drivers include the aging population, increased active lifestyles, tendency and desire to live longer, advanced technology (breakthroughs) and worldwide market penetration.
To meet the continuously growing demand in the healthcare sales and development market, two significant types of companies have emerged as a result.
Medical device companies- selling to the clinical end user
Medical device outsourcing companies– those that sell to other medical device companies
Outsourcing implies 'sourcing outsiders' to perform various functions.
Outsourcing has been embraced by the medical device and pharmaceutical industry as a method of saving time and money – while ultimately increasing the bottom line, quickly and more efficiently.  The outsourcing process is complex. It requires a great deal of communication and management expertise to maintain standards and achieve the right results. There are almost endless advantages to hiring professional teams specializing in product development, research, distribution and sales team management for pre to post-launch services.
The ability to perform complete knowledge transfer is critically important in the outsourcing process. A disadvantage is when there is a potential difficulty with acceptance to transfer control.
Outsourcing can be done at two significant levels:
Traditional Business Outsourcing – process outsourcing (marketing, customer services, HR team building, team training, distribution, contracting, business development) – See  Our Services  for Team Building, Team Management & other HR related services offered by MedCepts
Product Development Outsourcing– technology-based – product design to development – may also include clinical research, logistics (warehousing/delivery) and more. Outsourcing design to development specialty areas results in a product utilized by vendors under their own brand name. Typically, this can be completed for a fraction of the costs as compared to the company/vendor having the product manufactured in-house.  Explore the Network at MedCepts for some of your Outsourcing needs – Medical Product Development Service Providers
Medical device and pharmaceutical outsourcing saves time and money in research, design, development, launch, distribution, sales team development, and sales team management.
Explore our network to find networking resources for outsourcing solutions for medical device and pharmaceuticals pre-launch to post-launch stages including HR recruiting, team management, business, and product development solutions. Medical product launch, development and distribution resources to outsourced solutions.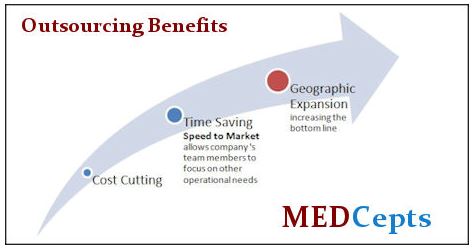 A focus of our network is to provide support for sourcing and outsourcing processes of the healthcare industry and thus to facilitate the search for suitable contractors for specific services. MedCepts networks with niche specialists and consultants for all life cycles for medical / healthcare related products and services, from the "new idea to concept and distribution".