MedCepts is committed to attracting, developing and retaining a diverse portfolio of clients while continuously expanding our network of members who share our core values of integrity, respect, honesty and an understanding that personal relationships are central to who we are as a company. We are always looking to network with people who appreciate a relationship-based culture and a high-performance work environment for success in the medical sales industry. We are continuously searching for those who are willing to embrace change, demand results and embark passionately upon new adventures. Integrity, intelligence, high energy, perseverance, strong communication, top performance sales skills, creativity capabilities, sales goals and specialized expertise of individuals within our network. We explore in our initial discussions a variety of growth opportunities while continuously encouraging, educating and exploring with sales team members their desire to "step out of the box" as they reach for their sales and  commission goals. When an entire network shares similar core values and energy for results, there is a Synergy bound to succeed!
---
UCLA Anderson School of Business conducted a research project on the national sales launch of a product utilizing Independent Sales Reps acquired by MedCepts.   
Press Release:
MedCepts Independent Medical Sales Representatives "Qualified" and "Successful"
MedCepts receives the results of a completed research project by MBA Classmates from UCLA Anderson School of Business as a result of the classmates research to explore the Sales Force Philosophies & Economics of utilizing Independent Medical Sales Representatives, selling on commission only, for the national promotion of a physician designed product.
Nashville, TN, November 30, 2008 — MedCepts, exclusively focused in the medical industry, serves a specialized niche by aligning Medical Device Manufacturers with Independent (Commission Only) Sales Representatives. MedCepts is committed to attracting, developing and retaining a diverse portfolio of clients while continuously expanding MedCepts network members who share core values of integrity, respect, honesty and an understanding that professional relationships are central to MedCepts as a company.
The final research project by MBA Classmates identified Independent Medical Sales Representatives as "Qualified", "Successful", "Operate fairly Independently", "Sell Complimentary Products", "Established Relationships", Territory Knowledge", "Territory Expertise", "Have Experience", "Shortens Ramp-Up period often encountered by new reps", "Reduces the need for Intensive Training", "Do not carry products that compete"….
---
Quality Medical Sales Reps – Design, print and mail by one of many top quality reps in our network.
A small distributorship team manager provided (at their own expense) direct mail marketing introductions to specific targets (economic buyers) in conjunction with placing reps in the field. One sample of the 4 post cards utilized for business introductions. (MedCepts Recommends: Logo/Trademark use by reps/distribution channels with Client approval only.)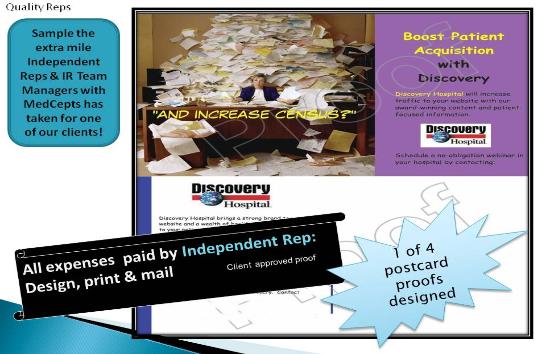 ---
The following is an actual email sent to distributors and independent reps of a new product launch.
This shares tidbits for motivation, education, peer to peer result sharing, quality of reps and activity results, product education and preparedness of rep candidates entering the field with a newly acquired product offered through MedCepts….(product info edits were made for web publication and client confidentiality*)
Thursday, June 18, 2009 3:32 PM
News Flash
Kudos to Brandon, NC
Brandon, team leader of a distributorship in North Carolina started his first introductions of the *edit*  yesterday! At 11:00 am yesterday, immediately after his first 3 physician visits, he reported the following results: "I need a demo unit immediately! This is like taking candy from a baby! I am 3 for 3" (Three introductions resulting in scheduled appointments for 3 follow up visits for a demonstration of the unit)
________________________
The following is information Brandon reported regarding his first three product introductions:
#1 – Larger Medical Group – Limited initial expectations from Sales Associate due to the size of the Group, potential for slower process with multiple decision makers, etc.
Initial Introduction to MD – Physician immediately led Brandon to the office manager and said:
"Get this guy an appointment for a demonstration as quickly as possible"
The physician had even informed Brandon about his great timing as they are presently working on this year's budget.
________________________
#2 – Small physician Practice – owned by managing partner PA (PA/office manager hired the physician)
Interest focus was in the business side / Reimbursements = request for Demonstration
Brandon attempts to schedule demo in July – allowing two weeks to obtain demo unit from the manufacturer –
Office Mgr. Response = "We need a demo in the NEXT TWO WEEKS!"
_____________________
#3 – Cardiologist Office
Physician's initial response – "We don't manage diabetes"
2nd look and recognizing *(Specialty Disease Process)*
Response to Initial introduction: "Schedule a demo immediately for my partner and I. Be sure to provide codes to our billing manager to confirm."