Whether a company has or plans to present introductions with a large sales team selling multiple products, or a smaller sales team selling an individual product, keeping control of the sales presentations people are using is a difficult task. Marketing might supply slides, sales or pitch books, sample call scripts and marketing material to the sales team, but do they get used as they have been presented to the sales reps?
Sales Reps Need Quality Marketing Material
The sales rep knows he needs a customized presentation to meet the specific needs of the situation. So he'll do one of two things. Either he'll use the generic presentation and fumble through it as he skips the parts he doesn't need. Or he'll create his own set of slides and present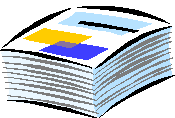 poorly designed slides that don't match the important branding that the marketing department has worked hard to create. Neither approach results in a successful presentation and neither give the sales rep a good chance of securing the order. With sales reps each making changes to slides or creating new Power Point slides, what image of the company is portrayed? Lack of consistency and brand can undermine a lot of good marketing work. When someone thinks they could make better slides it's almost impossible to portray one consistent image.
Losing control of sales presentation content doesn't just impact on a company's brand. If the slides that were approved by the legal team are changed or rearranged, then what? For many companies, mutiple versions of sales presentations can create real risks, unless designed by the company itself.
To sell effectively, it's important to give sales teams high quality support.
That means slides or presentations that look great, but more than that, it means sales presentations that work. Sales presentations your sales teams WANT to use. Presentations that prospects WANT to see, leaving no doubt that you mean business. High-quality sales presentations mean sales people can get on and do what they do best – sell.
If you give a sales rep a presentation they could have designed on their own, nothing will stop them from making changes. If a sales representative receives a presentation, all perfectly designed, with compelling arguments and stunning visuals – why would they use anything else?
Creating a library of standard slides and sales tools may be a good solution where Marketing provides a suite of sales tools approved by the company. Evaluate and update the library every 3 months or as often as needed. Offer on a CD, in a binder or directly through your website. (Password protected?)
Inspirational Thoughts for the Day!
–  "When the product is right, you don't have to be a great marketer."
–  "Where there is an open mind there will always be a frontier."
–  "Once an organization loses its spirit of pioneering and rests on its early work, its progress stops."
–  The business that considers itself immune to the necessity for advertising sooner or later finds itself immune to business.
–  The very best sales presentation is one that's well thought out and anticipates any questions… answering them in advance.
–  If you don't drive your business you will be driven out of business.