Product Profiler – There is no surprise that our members are our best referral partners AND often become our BEST territory or Product Managers for our clients' sales success.
Product Managers –  Product Managers work with clients to better the scope of the success of the project, identify sales partners needed to drive the desired sales results and creates the value proposition that compensates the sales expert for success.
Become a Product Profiler!
Increase your income by referring companies with products or services seeking sales team members! How many products do you PROFILE for yourself to consider promoting in your territory? How many of those products would benefit from regional or national representation? Have you been successful with a product but recognize a team that could benefit with you as a team manager for product training or field training to overcome potential barriers you have already pulled through? Do you know of a manufacturer or supplier that would like to market their product or service through a nationwide network of independent sales representatives? You can build your business by just profiling products and receiving compensation on sales nationwide with products aligned with our management services! Or do you simply need to extend your territory but need additional team members? Time to network! Contact us!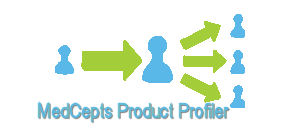 Earn a FLAT FEE for every client established referral and/or
Earn Commission overrides on sales of reps acquired for referred clients for management services.

Think: Commission override on REGIONAL or NATIONAL SALES

Sign up to become one of our multiple level Product Profilers

Product Profiler I – Simple introductions to product or client
Product Profiler II – Participation in Client Process – Also Open to Recruiters
Product Profiler III – (Advanced Analyzers)
Product Profiler IV – (Advanced Analyzers providing Management Involvement)
Product Profiler V – (Performance Metrics,GIS Market Analysis,Competitive intelligence)
Product Profiler Compensation may be based on a flat one time introductory fee or percentage of the net fees received by a revealed contact and may be pre-arranged through your agreement with the product supplier or directly with MedCepts. Due to the many variables surrounding each Business/Financial Transaction that will occur, the commission to be paid and/or the fee structure can vary. Separate fee and/or commission agreements outline compensation for each Business/Financial Transaction.  Become an Affiliate Network Member
Contact us for the specifics of this program!

"It is often said that men are ruled by their imaginations; but it would be truer to say they are governed by the weakness of their imaginations.' — Walter Bagehot
'What is now proved was once only imagin'd.'  – William Blake
'You create your own universe as you go along. The stronger your imagination, the more variegated your universe. When you leave off dreaming, the universe ceases to exist.'  — Winston Churchill