The pandemic has caused numerous challenges for companies seeking to hire employees. Many job opportunities are available but for numerous reasons, people have not been overly anxious to accept employment, whether contract, 1099 or direct salary. The reason for hesitation may include the additional government financial support they have been receiving, the fear of returning to the workplace during the Covid pandemic, the company's lack of support for remote workers. Employment hesitation certainly increased by the surge and elevated exposure to the highly publicized variants, such as Delta then Omicron.
Companies are stepping out of the box with creativity during challenging recruiting times. Face-to-face sales activities in nearly all industries were halted during the beginning of the pandemic by many companies. We expect 2022 to continue to open more opportunities for companies and sales reps alike.  However, there are many lessons that can be taken from knowing some of the successful changes by various companies, and will be beneficial to review post-pandemic times.  In conclusion, below are a few examples of what we have seen in the industry. Moreover, we feel sharing this information will be helpful tips for other companies to consider during the challenges of hiring and recruiting a sales team.
Tips to Hiring and Recruiting during Challenging times:
Restructure Sales and Marketing Collateral:  Major medical and pharmaceutical companies have transitioned their marketing focuses to virtual sales presentations.
Allow and Encourage Remote Workers and Virtual Sales Reps: Medical Device and Pharmaceutical Sales Reps Successfully turn to Virtual Sales Meetings during the Pandemic
Creative Compensation
Increase Your Budget for recruiters and HR: During challenging hiring times, an improved budget for your hiring team is extremely helpful. Recruiters are working harder during trying times.
Industry Knowledge: Know industry-specific creative compensation and hiring direction in challenging times.
Competitor Knowledge: Know what your competitors are offering or you will be spinning your wheels trying to hire at compensation less than what your competitors are paying.
Help wanted Job postings with advertisements offering bonuses have increased across all sectors by an amazing 454% in August 2021. Many job postings can be found offering all sorts of creative sign-on bonuses, in the amounts upwards of $100,000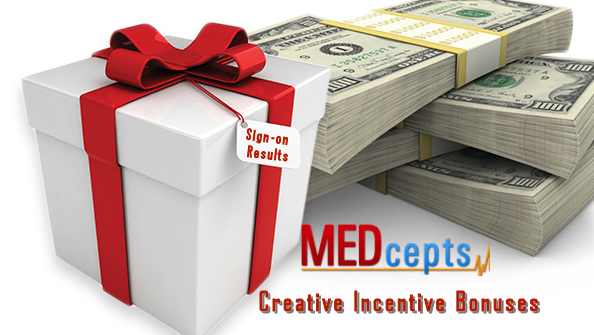 Major medical and healthcare companies across the board have expressed they are having difficulty filling their employment opportunities. Many companies are offering employment bonuses and they're getting more and more creative. Glassdoor has identified companies offering up to $60,000.00 in bonuses, along with relocation costs.
Businesses nationwide are offering anywhere from $500.00 to $100,000.00 sign-up bonuses to encourage employees to join their team.  Companies are seeking and exploring numerous other creative compensation packages to entice new people to join their companies.
In the past, there were always enough people applying for jobs that bonuses weren't needed. The pandemic has changed this. Employers and HR divisions are really getting more creative in these times.
Many companies turn to Independent Medical sales reps for their sales team members and these companies have been successful but in challenging times businesses are working harder than pre-pandemic to find reps. Companies are stepping up to the new hiring challenges. We are seeing companies offering various types of bonuses. Examples include sign-on bonuses, results-driven such as quotas, compensation for introductions to bonuses for leads.
The ever-increasing trend for remote and virtual sales representatives continues to grow exponentially.