A company that analyzes billions of interactions daily on social networks utilizing cutting edge algorithms to extract valuable insights in the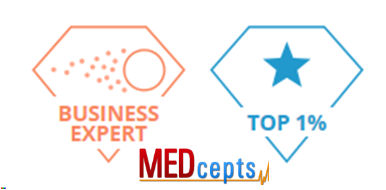 marketing arena named MedCepts as one of the top one percent of all social media users. MedCepts was additionally recognized as a "Business Expert". (February 2016)
The company Monitors big brands, brand competitors and targeted keywords with the ability to Measure KPIs, and identify where social media activities are driving conversations. We are not sure exactly all of their proprietary data utilized to measure results to make a determination in awarding us with such an honorable rank but they claim, "Trust us, we know", while also professing to be outright data geeks! We are confident, however, their complex series of data driven factors utilized to make this determination are sound.
Social Networking in the medical and healthcare industry can be extremely beneficial for building your brand and presence. We believe in diversifying your social accounts, rather than putting a lot of effort into one social media platform.
You can find us on social platforms such as Twitter, Google+, LinkedIn and Facebook with multiple accounts on each platform. We believe strong social networking will significantly and organically improve SEO for Medical and Healthcare Providers, Medical Product Vendors, Service Providers and Manufacturers.
Using social media networks to share your messaging (content) can certainly have an impact on obtaining additional exposure for your company. Branding Medical and Healthcare Websites with Content offering relevant and quality content will provide your business a competitive edge. Social media networking and marketing can be good way to balance various push and pull marketing strategies in the medical and healthcare industry – a little bit of push and a little bit of pull.
MedCepts is an industry leader supporting innovative, flexible and out-of-the-box performance based compensation within a relationship-based culture – ultimately driving results across the ever-changing landscape of the healthcare industry while revolutionizing interactions between healthcare practitioners, manufacturers and sales representatives.
The MedCepts Medical Sales & Marketing Network is a diversified network of individuals, companies and niche specialty consultants with experience from the "New Idea to Concept" & Distribution.
The mission of our network is to provide support for sourcing and outsourcing processes of the healthcare industry and thus facilitate the search for suitable contractors for specific services.
Appreciation is extended to our entire network of social followers for this recognition!