Pharmaceutical and Medical Device Sales Reps: What is your dollar value PER physician visit?
Pharma and Device Reps: What dollar value would you attach for your experience, knowledge & relationships? What are pharmaceutical or medical device companies presently paying? Have you ever calculated your individual per call value based on your salary or annual compensation? What's the latest trend for compensation of the experienced pharmaceutical sales reps? What will be the future trend for compensating the experienced pharmaceutical rep?
Manufacturers, Pharmaceutical Companies (Hiring Companies): Have you ever calculated the cost per visit for your sales reps?
MedCepts is an industry leader supporting innovative, flexible and out-of-the-box performance based compensation within a relationship-based culture – ultimately driving results across the ever-changing landscape of the healthcare industry while revolutionizing interactions between healthcare practitioners, manufacturers and sales representatives.
The Pharmaceutical and medical device sales process is dynamic in many ways with Innovative and creative ideas, techniques, methods and sales challenges. Like never before, so much has been happening so quickly with pharmaceutical and device companies, sales representatives and healthcare providers – relative to utilizing technology and social media to accomplish sales processes previously conducted in person. Is this technology having an impact on declining compensation and job opportunities for pharmaceutical and device sales reps? Or will the next level of innovative technology remedy this?
A walk down memory lane: We can recall days, not too long ago, when pharmaceutical and device reps (W2 employed) were coming to MedCepts to add a few Independent Lines because of advice from their tax consultants related to tax benefits (deductions) for independent reps. Today the market is different, as more and more professional and extremely experienced sales reps struggle to find employment.
So what's the latest salary trend for pharmaceutical and device sales reps?
You see so many job boards, and a few recruiters, with various articles promoting high salary jobs, in quantities, on their Unique job board, while so many others outside this arena are telling a totally different story related to the decline of jobs (and declining salaries) for the pharmaceutical and medical device reps. We decided to take a closer look at some of the creative and innovative compensation packages for pharmaceutical sales representatives and our findings may surprise you.
A conversation about earnings and the potential for an array of creative remedies have been recently brought before us which sparked a desire for direct conversations with pharmaceutical sales representatives.
Exploring compensation directly with Pharmaceutical contract sales reps
It's time to talk, one on one, to those with direct knowledge of the compensation trend today, the Pharmaceutical Sales Representative – not employers, job boards or recruiters. Our first conversation was with a "Contract" pharmaceutical sales rep. Our goal was not to explore traditional methods of compensation (annual salary) but to identify the actual value for a pharmaceutical sales rep's presentation. Far too many compensation packages are promoted by the annual salary or hourly rate – we prefer to dig deeper.
What is the dollar value for a pharmaceutical sales rep's sales experience, knowledge & direct relationships? Typical or standard compensation packages focus on the annual salary or hourly rates. Should we evaluate the typical compensation or step outside the box?
Pharmaceutical reps spend a portion of their time on the road – So how can we identify an actual $ value of a pharmaceutical sales rep and their daily activities? Let's look at the Who You Know and What you Know concept – a concept vigorously employed at MedCepts. What is one of the real values of a pharmaceutical sales rep? Wouldn't you think there is a Real and Actual value of their ability to speak directly with a physician? Or an actual value to provide a presentation via advanced technological (digital) processes directly to the physician? If any reader doesn't think so, we'd like to challenge you to get face to face with 30 physicians within the next 5 days. We suspect, without established relationships and the know how, you're not going to meet that challenge. Hence, the concept – Who You Know and What You Know….
Exploring the compensation of an individual "per call" value based on the typical salary or annual compensation – a little nontraditional and Out of the Box explorations….
Below are the results of a conversation with a pharmaceutical sales associate and calculations of her earnings "per physician visit"
She reported her annual earnings in the part time position she held ranged between $42,000 – $45,000 a year, allowing for potential bonuses. She stated her job requirements were to call on 10 physicians a day. She worked 3 days a week. Let's calculate her pay PER physician call.
·         10 calls a day x 3 days a week x 52 weeks -> 10x3x52 = 1560 calls a year.
·         $45,000 annual income, divided by total calls a year (1560)-> $45,000/1560= $28.84 PER Physician call.
·         $42,000 annual income, (without bonus) divided by total calls a year (1560) = $26.92 PER Physician call.
Consider Using a Paycheck Calculator to determine her actual take home pay – assume single, no dependents, Resident Arizona –  (Federal, Social Security, Medicare, State Taxes, other withholding) Consider approximately 25% of her pay withheld, making her call PER physician even less.
·         $26.92 x 25% = $6.73
·         $26.92 – $6.73 = $20.19 PER Physician Call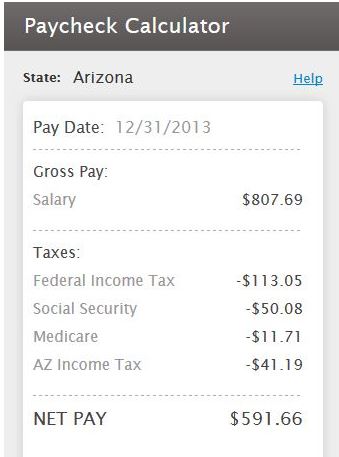 See image above – (Results utilizing a paycheck calculator actually reflect $19.72 per call with additional withholding in Arizona- $42,000 annual compensation / divided by 52 weeks = $807.69 weekly. ) $591.66 take home pay divided by 30 calls per week = $19.72
The results of this initial conversation sparked an intense curiosity to the accuracy of these numbers and further explorations were warranted resulting in conversations with multiple pharmaceutical sales professionals nationwide, USA, inclusive of rural and metro areas. Quick calculations were completed based on metrics provided by each of the sales professionals. (Annual income / calls per week) The numbers resulted between $20.00 – $57.00 per doctor visit from our initial calls. (All sales reps were considered part time, without additional benefits. Taxes were withheld from those we spoke to, as the sales associates were hired as W2/employees. No additional allowances provided to any of those we spoke with. – car, iPad, phone, laptop, etc.) Additional considerations could be utilized to calculate approximate withholding based on an individual's situation (single, married, dependents, etc.) and the resulting number would cause the pay per call to be reduced even more! Let's reserve discussion another time for the value of a self-employed independent contractor and the impact being an independent contractor would have on the actual "take home" pay of a pharmaceutical sales agent.
Taking this one step further – As a result of our initial explorations, we decided to take this to another level. We were about to launch another of our annual surveys and we decided to add a piece to explore the Pay Per Call Value for Pharmaceutical Sales Reps.
We surveyed over 1,000 medical sales reps and we've taken the results of only the pharma or pharma specialty "Field Reps" and here are the results we found:
We have separated out responses from Medical Device Reps, Capital Equipment Reps, Reps carrying a mix bag of Medical Devices and Pharma products, all pharma management level sales reps, Hospital Formulary Reps, and other responses without metrics required to identify a pay per call to the physician value. Pay Per Call is inclusive of remote detailing –  eDetailing and Closed Loop Marketing techniques fulfilled by pharmaceutical sales reps. Pay Per Call for these results are all inclusive of Product / Company presentation directly to the physician to establish a Pay Per Call Value for the Pharmaceutical Sales Representative.
The results – Pay Per Call Value of Pharmaceutical Field Reps ranges between $20 – $57 – with 75% below $40 per call and above $25 a call.
Isn't it time for Pharmaceutical companies to look at aligning independent agents to present their products and compensate them as we see in the medical device arena? Compensation for Independent Reps often ranges 3 to 4 times the rate of salary reps to entice the independent candidate – putting a value of Independent Pharma Reps at $75.00 – $228.00 per call depending on location and other considerations.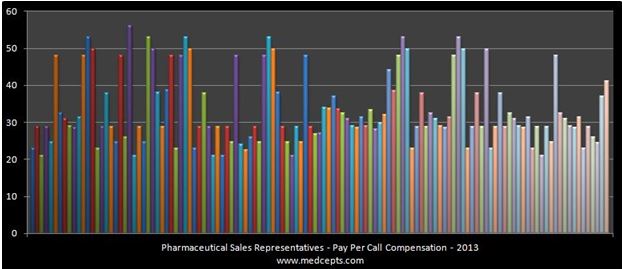 The above graph reflects our Survey Results of 126 Pharmaceutical Sales Reps with the metrics (annual compensation / calls per week) provided by the sales representatives. The resulting graph includes only the results from pharmaceutical sales professionals, whether working in pharma or specialty pharma. All respondents present with a title of "Field Sales Representative" – "Sales Territory Manager" – "Pharmaceutical Sales Consultant" – "Sales Account Executive" – "Account Manager" or other, but they do not hold a management position.
Is there or should there be a different compensation value for dropping samples, literature or other market collateral verses a face to face meeting? What is the actual cost to pharmaceutical companies per call for W2 employed reps? Consider:
1. The cost for recruiting, hiring & training expenses, salary, variable incentive compensation, payroll taxes & 401K contribution, paid vacation, insurance & workers' comp, auto, travel, meals, computer & communications equipment, inside sales support….. A company can spend $3M annually for 20 Direct Salary (W2) Sales Reps – See Building a High Impact Sales Force with Independent Sales Representatives: An Investment You Can't Afford Not to Make
2. Fees paid to outsource a team of pharmaceutical sales reps.
Calculate your Pay Per Call Value applying your own metrics – we utilized several salary calculators with success but we liked the ease of Intuit Paycheck Calculator
If you are seeking to align independent device and capital equipment sales professionals, feel free to explore our survey results from Over 5,000 independent medical sales representatives, distributors and team leaders (managers) of independent rep groups who participated in our 2014 Annual Income Earned Survey: Income Earnings for Independent Sales Reps & Distributors
MedCepts is an industry leader supporting innovative, flexible and out-of-the-box performance based compensation within a relationship-based culture – ultimately driving results across the ever-changing landscape of the healthcare industry while revolutionizing interactions between healthcare practitioners, manufacturers and sales representatives.
The MedCepts Medical Sales & Marketing Network is a diversified network of individuals, companies and niche specialty consultants with experience from the "New Idea to Concept" & Distribution.
The mission of our network is to provide support for sourcing and outsourcing processes of the healthcare industry and thus facilitate the search for suitable contractors for specific services.