Is there an actual impact on your website and its rankings as the result of social media efforts? This is an interesting question that we are realizing more (and more) each day that many professionals (even those in marketing) do not seem to understand in the medical and healthcare industry.
Let's explore a one of the first steps to begin building your brand, socially and the impact those efforts could have.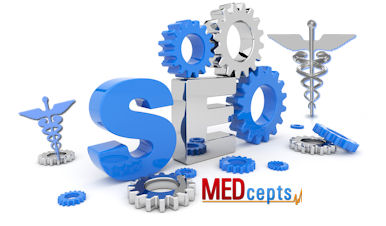 #1 – Getting followers: Perhaps think away from the internet – visualize a walk through the mall or as a visitor at a trade show and there are two tables there before you. One of those tables is surrounded by people (followers) and the other has no one at the table (no followers). Human nature, where might most be drawn? To check out where the crowd is, yes? Now apply that to a website of a company. We search around the internet and find the company's twitter account, a LinkedIn company page, Facebook page or other industry specific social (networking) sites. What do you think when you see a small number of followers? Truth is, that's exactly how Google and other major search engines look at companies – through their social followers and activities. There's more to improving your website rankings, but let's take a look at a company's social activities and resulting website rank.
A Case Study Using Social Media and the Impact it had on Website Ranking
MedCepts focus for our network members has not been in SEO or social media. As a matter of fact, some of our SEO statistics were actually brought to our attention, regarding much more of the amazing website statistics we had on MedCepts by a group of SEO professionals. Although we were aware of many of our results, there is always room to learn! Our results come from "Organic" efforts, starting with relevant niche content many years ago and readers taking the time to read our content. As a result, we will always Tribute our success to our network members.
This is a brief overview of our efforts with a client company's team – (A Social Website in the medical and healthcare industry.)
In the Past 60 days
1,675% Social Site Membership Growth in October 2015 compared to New Members August 2015

In Past 60 days clientdomaindotcom became more popular than over 15,000,000 other sites worldwide
Website Worldwide Rank:  Start 18,981,343 -> October 31: 3,705,602
Clientdomaindotcom did not meet metrics to obtain a rank in USA in August or September while recognizing this can be slow to identify, we kept our focus
In October, (60 days later) clientdomaindotcom is now in the Top 300,000 of ALL USA websites
Daily Time a Visitor Spends on clientdomaindotcom-> 28:39 up 302%
Daily Web Page Views -> 23 up 400%

LinkedIn Company Page Growth 1,334.94% – Start 83 -> Now 1,200

Target Specific -> Industry: 81% Pharmaceuticals ->  Function: 76% Sales ->  Seniority: 73% Managers

Twitter Account: Started with 2 Followers -> Now 28,000+ Followers (Started with following 14 -> Now following nearly 5,000) Target Specific: HCP's -> MD's, DO's, MSN, vendors/product mfg's, sales reps, World news


Being active socially helps a company to start chatter, raise curiosity, get the name out and share information about your company, while also providing additional company exposure. That's a good focus, wouldn't you say? Remember, it is very important to consider and understand more than just sales, marketing and healthcare. It is important to have that knowledge but it is also important to know how to apply that knowledge and expertise in your social efforts. We have shared numerous articles on this subject and there are voluminous articles on the subject across the internet. Read, learn and dive in! Use your site analytics to tell you how you're doing.