The trend of creative alignment of multiple jobs through a variety of employers in a niche industry continues to rise. In fact, Specialized Independent Consultants are at the top of the list in demand. Moreover, the mosaic career in a gig economy creates numerous streams of income during times of high demand for job flexibility. The growth trend for independent consultants is on an upward trend. Flexible jobs play a key role and the demand by employees for flexible jobs continues to rise.
The growth trend for independent consultants: the US $50 Billion Consulting Market is Expected to Grow Faster in the upcoming years
The piecing together various flexible job commitments with careful collaboration amongst employers and job seekers is clearly the latest wave.  In fact, we believe this concept will become even more popular over the next decade.  The "Mosaic Career" model will rank high amongst niche independent consultants in all industry sectors, well beyond the medical and healthcare industry –  The US $50 billion consulting market is expected to grow faster than any other geographic location. The growth trend for independent consultants is moving in an upward spiral rather quickly.
An Expected Eighty-Three Percent Growth trend for independent consultants in Consulting Services such as Management, Distribution, Personnel and Marketing
The management, scientific, and technical consulting services where companies offer specialized advice to other companies. The growth trend for independent consultants in areas such as distribution, personnel, marketing, finances, and other business operations, was forecasted to grow by 83 percent between 2008–2018. In fact, these projections represented the fastest growth rate and the largest expected job increase in all industries. (U.S. Bureau of Labor Statistics)
Entrepreneurial spirited individuals are accustomed to juggling multiple jobs, while also capitalizing on multiple streams of income. In fact, this holds true with juggling multiple businesses for as long as we can remember.  Moreover, the trend for income earnings through multiple employers will expand to many traditional employee candidates.  Likewise, this is inclusive of those who have previously been accustomed to working the single 9-5 job.
The "Mosaic Career" is not much different than the common practice of a full-time employee also working a part-time job
The "Mosaic Career" is not much different than the common practice of a full-time employee taking on a part-time job. Often, many have multiple part-time jobs in addition to his or her full-time employment. Recall, the rage for flexible jobs and the demand amongst families of those with young children. Flexible jobs (flexjobs) in the early 1990s increased from 15% to nearly 28% for all full-time salary workers. Equally important to recognize, this surge was due to flexible work schedules provided by their principal job. In fact, by the mid-1990s, nearly 31% of married workers with children under the age of six had flexible job schedules. (US Bureau of Labor and Statistics) In reality, the growth trend for independent consultants and flexible jobs initiated decades ago.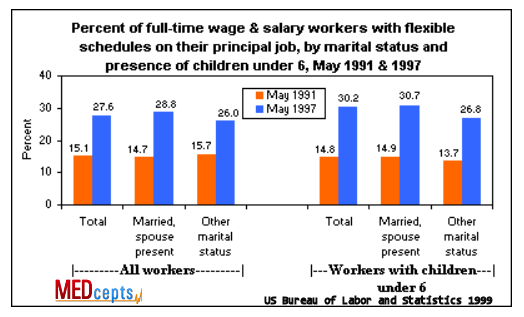 IRS Takes Notice of the Independent Contractor and Independent Consultant Growth Trend
The upward trend of utilizing independent contractors and independent consultants launched the involvement of the Internal Revenue Service. In the early 1990s, as the trend of hiring independent contractors vs. employees continued to increase, the IRS stepped in. In fact, the focus was to clearly identify the roles of an independent contractor vs. an employee. Furthermore, many employers have reaped the savings benefits of hiring independent contractors over the past several decades.
Trending Job Market for Independent Consultants, as a result of the upward growth trend for independent consultants
The future of job searching for independent sales and marketing opportunities, job placement, building job boards for freelance agents, and recruiting will continue to rise in the area for free agents, independent contractors, freelancers and independent consultants as the "Mosaic Career" trend continues in an aggressive upward spiral.  Job projects, freelance jobs, independent, flex and per diem type of employment will continue to thrive in the job market. Likewise, more and more people will move away from the traditional direct employment model and toward more flexible jobs.
Many traditional full-time employees have taken their first steps to an independent role while maintaining full-time employment, as they explore the potential of becoming an independent. Identifying a specialty niche that you excel at is critical to success, as an independent professional. Independent Consulting opportunities for healthcare professionals is another growing area for consulting opportunities. The Job board market space for the medical and healthcare industry is an incredibly competitive area. In fact, for many job boards, their focus has been in obtaining a number of high paying jobs. Likewise, many actually limited the independent jobs placed on their job boards. However, we are now seeing independent job opportunities accepted on more job boards.
Benefits of Social Platforms for the Independent Free Agent
New social platforms for the job market will continue to evolve, and those social platforms already engaging members will turn their marketing efforts toward the job market, as we are witnessing through LinkedIn and Twitter.  As social networks climb in popularity, one can utilize them to maximize the potential for leveraging 'brand power' – Branding through the distribution of content on Social Media Sites – whether as an individual professional, freelance consultant or company.  Recognize, most social networks own the service they offer and can shut down an account at any time. Be sure to diversify your social networking.
Growth of Independents in the Medical and Healthcare Sector
Over the past decade, MedCepts has witnessed the "Mosaic Career" of freelance agents evolve exponentially in the independent medical sales, independent contractor and independent consulting arena in the medical and healthcare industry – from licensed healthcare providers (as consultants) to sales and marketing professionals. From the "New Idea" to Concept and Distribution, the need for specialty consultants continues to rise – Research, Development, Legal, Patents, Trademarks, Prototypes, Clinical Trials, Marketing and Sales Force Planning often begins in the Product Development Stages
In 2014, over 5,000 respondents participated in a survey we conducted to identify the growing Income Earnings for Independent Sales Reps & Distributors. (Yes, at MedCepts, we have always considered sales representatives as sales consultants!) Self-employed Independent professionals are quickly recognized by many as physicians, attorneys, tax consultants, financial advisors, and specialty consultants – but for some people, the concept of being an independent is perplexing. There are many advantages of being an independent professional.
Expertise is a Valuable Asset for the Independent Consultant or Freelance Agent
Regardless of the endless reasons that may convince an individual to take the independent freelance path, an evaluation of the fees for value needs to be considered before taking that step. Can one place a compensation value for medical device sales representatives or pharmaceutical sales representatives for every healthcare provider they can access? – We think so and more hiring companies are recognizing this unique value. We compared the annual income of pharmaceutical reps, their total number of calls along with conducting an extensive survey utilizing those results to identify the potential Value of a Pharmaceutical Rep Per Physician Visit.
Successful results of any individual can certainly have an impact when considering out-of-the-box creative compensation plans. A company can spend $3M annually for a small team of twenty employed sales representatives resulting in more companies recognizing the value of Building a High Impact Sales Force with Independent Sales Representatives. Understanding creative compensation techniques for independent consultants in medical sales, research, development, clinical and more can be important when attempting to understand How to Charge Consulting Fees. Evaluate the benefits of working with start-up companies or big brand. Nearly 90 percent of all independent medical device reps prefer representing products from start-up companies over big brand companies.
The art of creatively juggling a work schedule is nothing new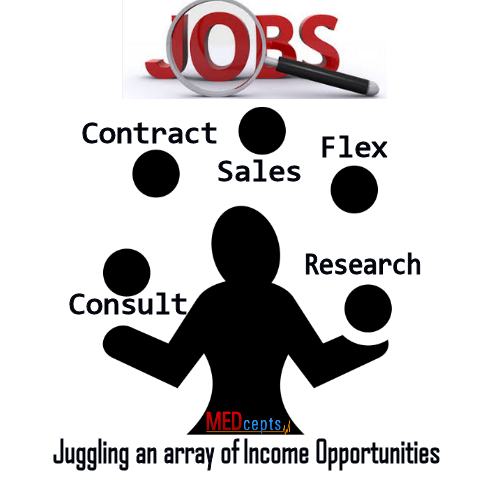 Scheduling employment around other commitments, such as family, has been a consideration by many when initially taking on any job commitment. Working multiple part-time jobs has been another successful focus of many individuals. There are many reasons an individual may seek multiple jobs.
There may be only one reason or multiple reasons, examples might be –
1. They may only have the time allowance for only one single part-time commitment,
2. They may diversify their jobs or job roles for the purpose of gaining additional experience,
3. They may feel they obtain freedom and flexibility of aligning with multiple jobs,
4. Additional income from multiple jobs could certainly be a motivator,
5. Desire to explore various options, health reasons, growth options,
6. Desire to work with a company that is not in the position to hire them full time,
7. Interest with a company to explore the individual's potential before hiring full time,
8. Potential within various companies,
9. Desire to achieve,
10. Multiple interests and specialties,
11. Various and diversified relationships,
12. Interest in short term commitments only, and the list goes on….
The employer or company may also have specific reasons for hiring part-time – here is a Case Study of a National Medical Product Launch where there was a Company Acquisition in the 6th Month following a Beta Launch with Independent Medical Sales reps already in the sales field with relationships. This may be a situation for a company may seek part-time professionals rather than the commitment of full-time employees. Employers may have similar reasons as the employee for seeking part-time commitment.
The art of creatively multi-tasking various roles for a single employer or the self-employed small business owner
For some individuals, taking on multiple roles in a small business setting, takes a creative, multi-tasking maniac, rainmaking,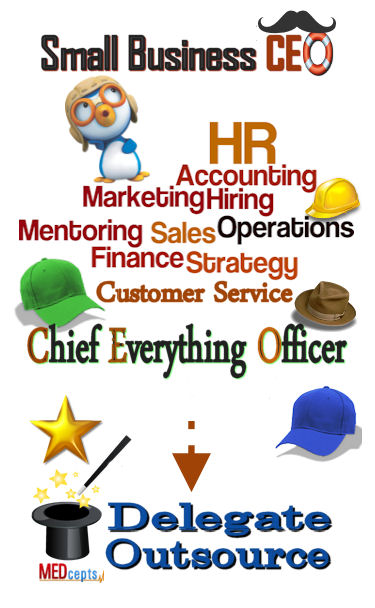 spirited individual!
Similarly, as the individual who is multi-tasking with multiple jobs through various employers, these individuals have an extraordinary ability to balance work, family and so much more, yet they will still allow for their own personal (sanity) time.
The Small Business CEO: Chief EVERYTHING Officer is a great example of this type of individual. This multi-tasking individual may be employed or contracted by a small business owner or directly hired by a small business to take on multiple roles and this scenario is very common in the workplace. No matter what size the business is we can often recognize additional duties delegated to a single employee.
The additional delegation of responsibilities is often a reason many successful individuals leave the corporate world and enter into an independent role. As an example in the sales arena, we have heard countless times where successful sales professionals have built territories to only have their territories split (a piece given to another sales candidate) resulting in a loss of income for the sales professional originally developing the territory. This type of individual is often very successful as an independent, whether in sales, marketing or sales consulting. Very often they will align with multiple opportunities (various product lines) that fit with the type of relationships they have. We have witnessed the success of many independents as a result of this exact situation.
Delegation of duties through outsourcing can allow the company to focus on other critical company operational needs.
The trend of Hiring Highly Qualified Candidates
Identification and utilization of higher qualified candidates is long overdue for many industry sectors, including the medical device and pharmaceutical industry. The employee turn-over rate varies across industries and within companies. Working with a knowledgeable recruitment team can offer a competitive edge. MedCepts Recruiting Division rated #2 of 6,000 firms –  Employees receiving an annual salary may not be quite as motivated (or as qualified) as the independent freelance candidate and creative compensation packages while exploring a candidate's potential needs to be considered by hiring personnel. As an example regarding hiring quality sales representatives, in 2008, the UCLA Anderson School of Business conducted a research project on the national sales launch of a product utilizing Top Quality Independent Medical Sales Representatives acquired by MedCepts. The final research project by MBA Classmates identified MedCepts' Independent Medical Sales Representatives as:
"Qualified"
"Successful"
"Operate fairly Independently"
"Sell Complimentary Products"
"Established Relationships"
"Territory Knowledge"
"Territory Expertise"
"Have Experience"
"Shortens Ramp-Up period often encountered by new reps"
"Reduces the need for Intensive Training"
"Do not carry products that compete"….
How long can we expect to put a field force out there with the 80/20 rule? Isn't it time for companies to focus on truly investing in highly qualified candidates, with multiple capabilities, a broad range of expertise and creatively compensating them, whether specific for results, activities, or other needs?
Diversity of experience and knowledge of higher quality professionals can give the company a competitive edge
Many sales professionals, sales managers, and team leaders have an enormous amount of diversified talents. They may utilize these talents with working with multiple companies or they may incorporate their talents for one company. They have exposure to various marketing strategies, territory knowledge, product training knowledge and more. As an independent sales professional they know, from prior experience, what is needed to penetrate sales in their specific territories and very often they will go the extra mile.
Below is an example of one of four postcards designed, developed and mailed at the cost of the sales team contracted to introduce a company into their territory.  They deployed their multiple talents and invested their efforts in one company – all based on commission on sales results only. Of course, they certainly need to carefully select their products or services and identify Is the Product Hot or Not: Perspective of a Sales Rep, a perfect example of why MedCepts is also very selective in products or services offered through our network.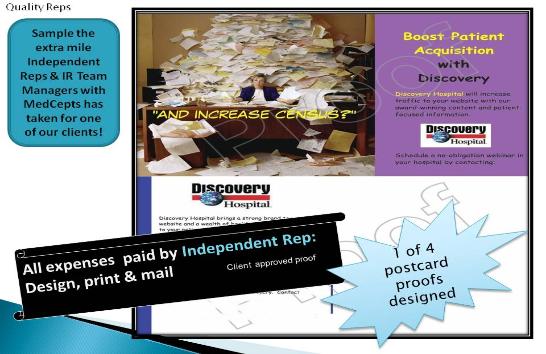 Article first posted in April 2016, Updated 2017,  2019